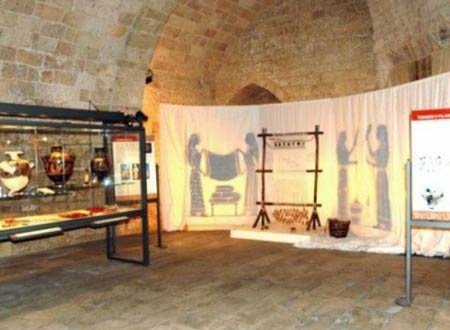 In the territory of the Murgia in Gioia del Colle it will be interesting to visit the castle that houses the National Museum of Archaeology. Build by Richard Siniscalco, brother of the famous Robert Guiscard, the 'building was redesigned by Ruggero II and the' Emperor Frederick II of Swabia author of the system of fortification of Puglia. As with other castles in the area, during later historians, the 'building suffered other structural changes by both the Angevin is Aragonese. The National Archaeological Museum is part of the monumental castle where there is a 'exposure of the many testimonies of the necropolis of Monte Santo Mola Sannace and affecting a broad historical period from the sixth to the second century BC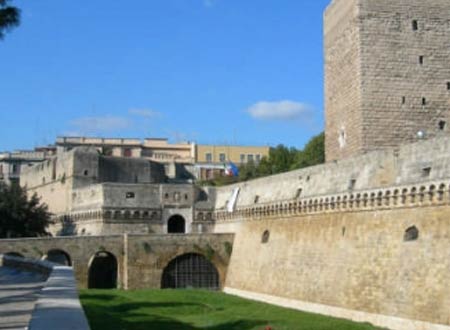 Located near the old town of Bari, in defense against attacks from the sea, the Swabian castle is one of the most important historical symbols of the capital of Puglia. The majestic castle is built on previous Byzantine settlements and subsequently underwent several building phases from the twelfth to the sixteenth century. In 1131, on the orders of Roger the Norman, it was built the core of clear medieval architecture quadrangular with four towers at the corners. Later it restored by Frederick II of Swabia between 1233 and 1240.
City of the famous 1503 duel between Italian and French knights, Barletta boasts one of the largest castles of Puglia included, by Frederick II of Swabia between those of Earth Giustizierato of Bari. Erected by the Normans in the second half of the twelfth century is unquestionable keeper of the history of this city. Like all castles, net structural traces left by the various cultures that have alternated over the centuries. Transformed by the Anjou from manor in fortress, was Charles V, ruled Aragonese, he consolidate his defensive role. Now home of the Heritage and Cultural Services is the museum center of the city of Barletta is home to interesting exhibitions, cultural events that continue to bear witness to the historic charm of this land.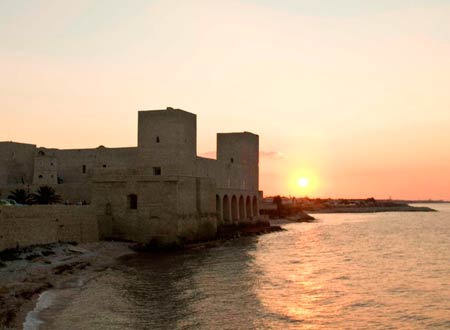 The Trani Castle, located on the sea front of the majestic Romanesque cathedral, is one of the most important among those facts built by 'Emperor Frederick II in defense of his beloved United of Sicily. Strategically placed in the middle of a sparse whose shallow waters have always been considered a 'good natural defense of the city against attack from the sea, the castle of Trani was built on the model of the fortifications Crusades in the Holy Land. As for most of the fortifications of Puglia was the first domain of the Angevin and then Aragonese. With the 'evolution of firearms and threats of Turkish raids in the sixteenth century, was a necessary structural adjustment to improve its strategic and defense of the city. Prison until 1974 was